There is a misconception, probably arising from those films where a group of young people say "Let's put on a show", that doing a workshop is simple. That could not be further from the truth; a theatre workshop needs the support of talented tutors and of generous people, plus a lot of hard graft on the part of the students.

The generousity comes in many forms. Sponsors dug deep in their pockets to ensure that the young people of Dover could have the opportunity to work and learn together and to create something not just for themselves but for the whole community. The sponsors included:
Dover Town Council Events Committee (£1,000)
KCC Councillor Nigel Collor (£1,500)
The Jack Hewitt Youth Scheme (£500)
The London Fancy Box Company (£300)
Bequest of George Pheby (£900)
Dover Rotary Club ~ Stephen Yarrow / President (£200)
Peter Walsh ~ Managing Director of W. Enterprises Ltd (£300)
Bradleys Solicitors (£25)
Behind the scenes other volunteers built or supplied props, helped with advertising, managed the front desk and the raffle or rattled collection buckets.

The Students, Sponsors and Staff gather together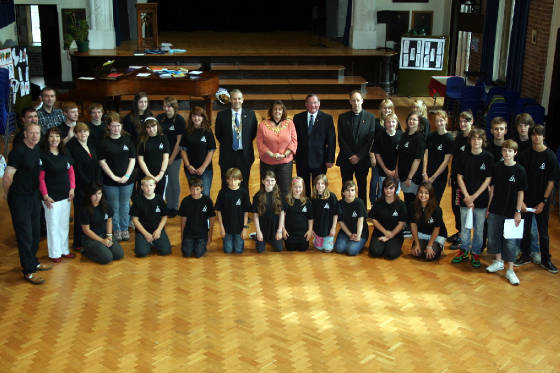 Tutors:
Musical Director - Pete Faint
Choreographer - Julia Rennells
Drama Director - Michael Thomas
Artistic Director - Marie Kelly-Thomas
Stage Management - Andrew Martyn
& Zoe Anderson

Performance:
Dover Town Hall
Thursday 19th August 2010
7:30 p.m.

Students:
30 students from Dover District, ranging in age from 10 to 20 years. Of whom, two are on a full time performing arts course in University. Selection was by formal audition and was advertised in the local newspapers and open to anyone who wished to apply.

DYT Committee:
Chairman - Viv Howlett
Treasurer - Christine Dunstone
Secretary - John Wiggell
Dance & Drama for the young people of Dover...